On February 1, 2015, we introduced a new way for you to make payments online. It's fast, easy and secure!
Use the interactive reference guide below for more information on how to make a payment online. As you've done in the past, to get started making an online payment visit www.AppliedBank.com or log into your Online Account Services account. Not enrolled in our FREE Online Account Services? Click here to sign up and receive the latest information on your account.
Want to schedule multiple payments? Sign up for our convenient Automatic Payments program. Click here to learn more. You'll never have to remember to make your minimum monthly payments again! You can also pre-schedule payments up to 6 months in advance by following the guide below and choosing your payment effective dates.
1. Enter your Applied Bank credit card account information or log in with your Online Account Service's User Name and Password.
2. Select your payment amount and the method you would like to use to make your payment. We make it easy - you can make a payment with your debit card, credit card, checking and savings accounts. Click "Continue".
3. Confirm your method of payment. Click "Next".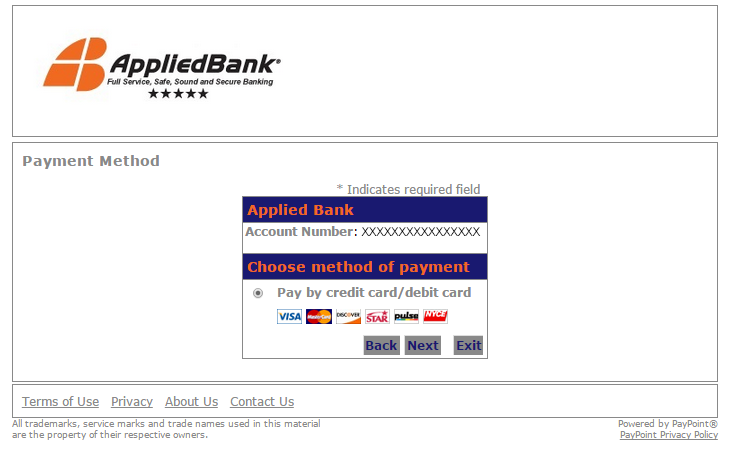 4. Enter your billing address information, your payment effective date and payment method information.
5. Review your payment information and click "Pay Now".
6. Congratulations, your payment has been submitted. To print your payment confirmation click "Printable Receipt".